This would be really funny if it wasn't true. We've seen this coming for many years and here it is...
WARNING: Adult language
Posted on 11 Apr 2014, 15:48 - Category: Movies
Comments - Edit - Delete
...The following montage chronicles the evolution of film from its conception in 1878 by Edward J. Muybridge to the Lumiere brothers in 1895. Georges Melies a trip to the moon in 1902 was a total game changer and from there we go to the first theatrical releases starting in 1920-2014...
All in three minutes!
Posted on 20 Mar 2014, 17:37 - Category: Movies
Comments - Edit - Delete
Too many clips to post, so click and enjoy!
http://www.uproxx.com/tv/2014/02/10-tracking-shots-visually-impressive-one-true-detective/
Posted on 14 Feb 2014, 12:53 - Category: Movies
Comments - Edit - Delete
Those Facebook look-back videos that have been clogging your news feed got a fun new addition that looks way, way back ... into a galaxy far, far away.
http://www.today.com/tech/darth-vaders-facebook-look-back-shows-his-dark-side-2D12083847
Posted on 10 Feb 2014, 17:01 - Category: Movies
Comments - Edit - Delete
Star Trek may have told us that space is humanity's final frontier, but plenty of uncharted hinterland remains unexplored within the human brain. And scientists at Oxford University recently discovered an area of the brain that contributes to make humans, well, human.
The walnut-sized area, nestled within the frontal cortex, is called the lateral frontal pole. It's responsible for planning and decision-making and, according to the new findings, has no equivalent in the monkey brain. Researchers thus believe this brain region might be responsible for humans' upper hand in tasks that require strategic planning, decision-making and multitasking...
http://blogs.discovermagazine.com/d-brief/2014/01/30/brain-area-for-decision-making-and-planning-is-uniquely-human/
Posted on 7 Feb 2014, 17:16 - Category: Movies
Comments - Edit - Delete
If you were a kid in the 1990s, chances are you had a few Beanie Babies cluttering your room, right next to your Nintendo 64 and your electronic pet, the cheeping, egg-laying Tamagotchi.
Now, 17 years after Japanese toymaker Bandai released the original, a whole new generation of children will be able to experience the joy of trying to keep a fictional animal alive...
In the movie MindScans, Tom Sobel, based his ALF's (Artificial Life Forms) on Tamagochi. Do you see the parallels?
http://www.nbcnews.com/technology/too-cheep-live-too-fun-die-tamagotchi-reborn-social-gamers-2D11648785
Posted on 8 Jan 2014, 19:42 - Category: Movies
Comments - Edit - Delete
(With a Box-Office Haul of Just $72)
In Hollywood, you win some and you lose some … and then you really lose some — just ask everyone involved with "Storage 24." The British sci-fi/horror flick grossed a less than whopping $72 at the U.S. box office.
No, we didn't forget any zeroes there.
Granted, "Storage 24" only played at one theater and only for one week, but something tells us there was a probably a reason for that...
http://movies.yahoo.com/blogs/movie-news/meet-lowest-grossest-movie-2014-box-office-haul-205622727.html
Posted on 8 Jan 2014, 17:47 - Category: Movies
Comments - Edit - Delete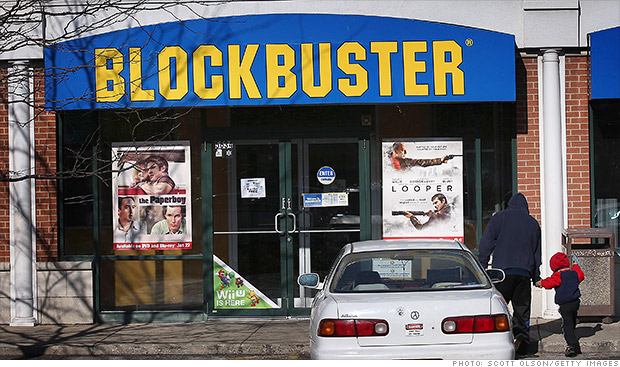 Movie rental chain Blockbuster will end its retail and mail order services by January of next year.
Blockbuster, which was bought by Dish Network (DISH, Fortune 500) in 2010 after going bankrupt, will shutter its domestic operations, including approximately 300 stores and all distribution centers.
It's the nail in the coffin of a brand that has been steadily declining. In January, the company announced plans to close 300 stores and cut 3,000 jobs.
Blockbuster has struggled in recent years to compete with Redbox, a DVD rental and digital streaming service provided by Outerwall (OUTR), formerly Coinstar, and Netflix (NFLX), which offers movies and TV shows for digital streaming in addition to its mail order DVD rentals.
Blockbuster By Mail, a service launched to counter Netflix, will end in mid-December, but the streaming service Blockbuster On Demand will remain intact...
http://money.cnn.com/2013/11/06/news/companies/blockbuster-stores-closing/
Posted on 23 Dec 2013, 16:36 - Category: Movies
Comments - Edit - Delete
Disney has earned the rights to market and distribute any future Indiana Jones movies in an agreement with Paramount, the studios announced on Friday.
Disney would not comment on whether or not Friday's agreement clears the way for Indiana Jones sequels, however an insider said it is the first step before any such discussion could take place.
Prior to the new agreement, Paramount, which distributed all four films in the adventure franchise, had an option to distribute any future sequels, an individual with knowledge of the pact told TheWrap. It only earned a distribution fee for its pains, but that money would have come out of any profits Disney would garner.
Also read: Jerry Bruckheimer: Paramount Will Give Me Freedom I Didn't Have at Disney
Instead of receiving a distribution fee in possible future Indiana Jones films, Paramount would get an undisclosed percentage of the profits. Whereas with the 2008 rollout of "Indiana Jones and the Kingdom of the Crystal Skull," Paramount received a distribution fee of 12.5 percent of theatrical, home entertainment, and television revenue, the individual said.
When it purchased LucasFilm in 2012 for roughly $4 billion, Disney claimed that it had no immediate plans to exploit the Indiana Jones franchise with additional films or television properties...
http://movies.yahoo.com/news/disney-release-future-indiana-jones-movies-223527704.html
Posted on 7 Dec 2013, 13:44 - Category: Movies
Comments - Edit - Delete
It's been 36 years since the first "Star Wars" film was released, and it's tough to surprise fans with anything new. But a now-viral video of never-before-seen bloopers from "Episode IV: A New Hope" has amassed nearly 1.5 million views since being uploaded on Sunday.
Posted on 1 Nov 2013, 21:21 - Category: Movies
Comments - Edit - Delete
Pages: [1] [2] [3] [4] [5] ...