Going to the movies has never been more expensive.
Ticket prices in the U.S. hit an all-time high in 2011, according to numbers released Thursday to The Hollywood Reporter by the National Association of Theatre Owners. The price of admission rose last year to $7.93 from $7.89 in 2010.
The high comes despite the average price for a ticket dropping slightly, to $7.83, in the fourth quarter of 2011, according to NATO. The lower fourth-quarter average is believed to reflect a slower pace of business, especially for 3D movies, which carry a higher price....
http://www.hollywoodreporter.com/news/movie-ticket-prices-increase-2011-288569
Posted on 9 Feb 2012, 19:08 - Category: Movies
Comments - Edit - Delete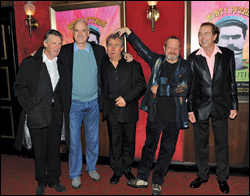 Members of Monty Python's Flying Circus are reteaming for "Absolutely Anything," a sci-fi farce combining CGI and live action, with Terry Jones to direct and Mike Medavoy to produce.
Plans are for filming to begin in the U.K. this spring, with the Pythons voicing key roles as a a group of aliens who endow an earthling with the power to do "absolutely anything" to see what a mess he'll make of things -- which is precisely what happens. There's also a talking dog named Dennis who seems to understand more about the mayhem that ensues than anyone else does. Robin Williams will voice the character...
http://www.variety.com/article/VR1118049265
Posted on 31 Jan 2012, 10:28 - Category: Movies
Comments - Edit - Delete
The changes in entrance rules and initiation fees will be of great interest to current and prospective members of both unions and close off a key route to a SAG card.
AFTRA's open door policy – which allows anyone to join the union online by paying the initiation fee – will end if SAG and AFTRA merge...
http://www.hollywoodreporter.com/news/sag-aftra-merger-dual-membership-cost-284453
Posted on 25 Jan 2012, 11:26 - Category: Movies
Comments - Edit - Delete
The filmmaker says he's retiring the franchise: "Why would I make any more, when everybody yells at you all the time and says what a terrible person you are?"...
http://www.hollywoodreporter.com/heat-vision/george-lucas-star-wars-red-tails-282905
Posted on 18 Jan 2012, 10:30 - Category: Movies
Comments - Edit - Delete
Several investment institutions that put up money for Paramount's first Melrose slate of films, including 'War of the Worlds,' 'Mean Girls,' and 'Mission Impossible II,' can go forward with claims that the studio's "risk mitigation techniques" were baloney...
http://www.hollywoodreporter.com/thr-esq/paramount-lawsuit-melrose-mean-girls-war-of-the-worlds-280910
Posted on 13 Jan 2012, 20:34 - Category: Movies
Comments - Edit - Delete
Remember 'The Adventures of Pluto Nash'? 'From Justin to Kelly'? 'Battlefield Earth'? Neither do we. Sometimes, movies are surrounded by so much media buildup before their release, and then - womp, womp, womp - they just can't live up to the hype ... 'THE GIRL WITH THE DRAGON TATTOO,' 2011: In 2011, You couldn't go anywhere without hearing about the Daniel Craig/Rooney Mara remake based on the high-successful Swedish version. Sadly, not even Mara's nipple piercing for the role could entice audiences to shell out $13.50. The flick only made $13 million its opening weekend, and considering it cost nearly $90 million to make, it's not looking good for Lisbeth Salander. 'A debut of $13 million over the holiday season is equivalent to a lump of coal, especially for a film that brings along this much fanfare,' Jeff Bock of Exhibitor Relations told E!online...
Posted on 13 Jan 2012, 19:55 - Category: Movies
Comments - Edit - Delete
It was one of the most riveting keynote speeches I had ever heard.
"Who are the real Hollywood stars?" Scott Ross asked the packed crowd filling Salon 1 of the Renaissance Hollywood Hotel during October's annual SMPTE Technical Conference.
Then he put a list of the top 20 highest-grossing box office films of all time on the screen in front of the Society of Motion Picture and Television Engineers audience.
"Notice that, in this whole list, only one franchise featured an established star," Ross said. "But all of them, without exception, were powered either by massive digital visual effects or computer-generated animation."...
http://www.tvtechnology.com/article/just-who-are-the-real-hollywood-stars/211050
Posted on 30 Dec 2011, 18:32 - Category: Movies
Comments - Edit - Delete
Preliminary estimates show that 1.28 billion people went to the movies in North America in 2011, down 4.4 percent from 2010 and the lowest number since 1995; the good news: foreign box office revenues are at an all-time high...
http://www.hollywoodreporter.com/news/movie-attendance-down-mission-impossible-box-office-276699
Posted on 29 Dec 2011, 22:01 - Category: Movies
Comments - Edit - Delete
Lost in all the huzzahs over the slump-busting box office performance by 'Paranormal Activity 3' was the fact that 'Johnny English Reborn' opened with a barely a whimper. The Universal release -- already a worldwide hit thanks to star Rowan Atkinson's international drawing power; seriously -- earned just over $3.8 million from 1,552 screens last weekend, good bad enough for eighth place. That result placed 'English' on an ignominious and growing list: the worst wide-release opening weekends of the year. Ahead, the 17 unlucky losers...
http://blog.moviefone.com/2011/10/25/the-18-worst-wide-release-opening-weekends-of-2011
Posted on 27 Oct 2011, 18:24 - Category: Movies
Comments - Edit - Delete
As the digital cinema era enters a new phase – a phase driven now as much by fear as excitement – Hollywood faces a number of challenges and none of the obvious solutions is particularly ideal. That challenge is even greater outside North America and although there are many complications – in many cases the challenge is country-by-country – this dilemma can be summed up rather simply: digital technology invariably creates a demand for more content, not less, and yet Hollywood continues to make fewer movies each year. These two realities cannot co-exist for too long or Hollywood motion pictures will no longer be a viable, growing business. Put another way, there has to be a finite number of lowest-common-denominator comic book movies that will translate well enough to generate solid revenues in every country...
...Hollywood would do well to remember its own humble beginnings at the turn of the last century. Vaudeville was king and the first nickelodeons were rude concepts often set up in bars or storefront shops selling low-cost entertainment to the masses. The movies were inexpensive and there seemed to be new ones almost every day. Vaudeville's establishment ignored these developments at first, then fought them, then tried to embrace them, then saw their businesses fade away.
The most successful nickelodeons grew into the major exhibition chains of the day and the most talented filmmakers who supplied them with movies became the Hollywood studios.
Once Hollywood became the entertainment establishment, things, as they always do, solidified. History has shown that since then the major studios have fought every single business and technological development there has ever been from talkies to color, from television to VCRs. History has also shown that in the long run this has never been a serious problem for Hollywood and digital may ultimately prove to not be an exception. But this feels different to me and this time when the studios finally decide to understand and accept the realities of digital technology it might be too late...
http://www.digitalcinemareport.com/node/2794
Posted on 22 Oct 2011, 10:00 - Category: Movies
Comments - Edit - Delete
Pages: ... [5] [6] [7] [8] [9] [10] ...