If you were a kid in the 1990s, chances are you had a few Beanie Babies cluttering your room, right next to your Nintendo 64 and your electronic pet, the cheeping, egg-laying Tamagotchi.
Now, 17 years after Japanese toymaker Bandai released the original, a whole new generation of children will be able to experience the joy of trying to keep a fictional animal alive...
In the movie MindScans, Tom Sobel, based his ALF's (Artificial Life Forms) on Tamagochi. Do you see the parallels?
http://www.nbcnews.com/technology/too-cheep-live-too-fun-die-tamagotchi-reborn-social-gamers-2D11648785
Posted on 8 Jan 2014, 19:42 - Category: Movies

No comments - Edit - Delete
(With a Box-Office Haul of Just $72)
In Hollywood, you win some and you lose some … and then you really lose some — just ask everyone involved with "Storage 24." The British sci-fi/horror flick grossed a less than whopping $72 at the U.S. box office.
No, we didn't forget any zeroes there.
Granted, "Storage 24" only played at one theater and only for one week, but something tells us there was a probably a reason for that...
http://movies.yahoo.com/blogs/movie-news/meet-lowest-grossest-movie-2014-box-office-haul-205622727.html
Posted on 8 Jan 2014, 17:47 - Category: Movies

No comments - Edit - Delete
After losing his lower right leg in a motorcycle accident four-and-a-half years ago, 32-year-old Zac Vawter has been fitted with an artificial limb that uses neurosignals from his upper leg muscles to control the prosthetic knee and ankle. The motorized limb is the first thought-controlled bionic leg, scientists at the Rehabilitation Institute of Chicago reported Wednesday in The New England Journal of Medicine.
"This is a groundbreaking development," says lead author Levi Hargrove, a biomedical engineer and research scientist at RIC. "It allows people to seamlessly transition between walking along level ground and going up and down stairs and slopes."
Until now, only thought-controlled bionic arms have been available to amputees.
When Vawter thinks he wants to move his leg, the brain signal travels down his spinal cord and through peripheral nerves and is picked up by electrodes in the bionic leg...
Virtual Reality needs a controller? How about mind controlled?
http://www.nbcnews.com/health/first-mind-controlled-bionic-leg-groundbreaking-advance-8C11257732
Posted on 23 Dec 2013, 16:41 - Category: MindScans

No comments - Edit - Delete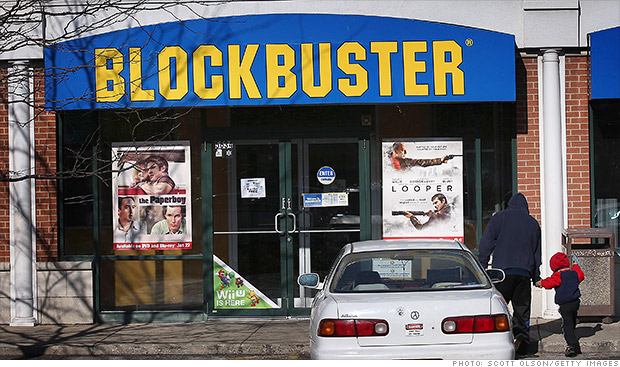 Movie rental chain Blockbuster will end its retail and mail order services by January of next year.
Blockbuster, which was bought by Dish Network (DISH, Fortune 500) in 2010 after going bankrupt, will shutter its domestic operations, including approximately 300 stores and all distribution centers.
It's the nail in the coffin of a brand that has been steadily declining. In January, the company announced plans to close 300 stores and cut 3,000 jobs.
Blockbuster has struggled in recent years to compete with Redbox, a DVD rental and digital streaming service provided by Outerwall (OUTR), formerly Coinstar, and Netflix (NFLX), which offers movies and TV shows for digital streaming in addition to its mail order DVD rentals.
Blockbuster By Mail, a service launched to counter Netflix, will end in mid-December, but the streaming service Blockbuster On Demand will remain intact...
http://money.cnn.com/2013/11/06/news/companies/blockbuster-stores-closing/
Posted on 23 Dec 2013, 16:36 - Category: Movies

No comments - Edit - Delete
We lost the cats to the Roombas, and the dogs to the pointing PeopleBots. Now, it seems that robots are casting a spell on curious chimps, too.
When 16 chimps from the Yerkes National Primate Center in Georgia encountered Robota, a doll who made pre-recorded chimp sounds from her chest, they tried to befriend her and talk to her, and they even banged on their cages to invite her to play.
"In one case, a chimp laughed at the robot while gesturing 'play,'" Marina Davila-Ross, a psychology lecturer at the University of Portsmouth and part of the team who watched the chimps interact with Robota, wrote in Ars Technica.
Two chimpanzees, Faye and Jarred, offered the robot "toys," she writes. Almost all the chimps tried to communicate with the bot using gestures or facial expressions, Davila-Ross and her co-authors note in a new study in Animal Cognition.
Quite the charmer: Robota doll befriended chimps at the Yerkes National Primate Center.
University of Portsmouth
Quite the charmer: Robota the doll befriended chimps at the Yerkes National Primate Center.
The chimps were particularly interested when the bot — to the extent that it could — mimicked apelike movements. They were less interested when her movements seemed more human.
For anyone who's surprised that our primate relatives seem smitten with a robotic playmate, remember that we form bonds with robots, too...
Makes the concept of ALF's more plausible doesn't it?
http://www.nbcnews.com/science/chimps-go-ape-over-sweet-talking-robot-8C11406920
Posted on 7 Dec 2013, 15:50 - Category: MindScans

No comments - Edit - Delete
Video games have long promised to offer their players "immersive experiences," but full-blown virtual reality — the holodeck or the matrix — was still a fantasy. Now with the Oculus Rift headset on the horizon, that's no longer the case: soon gamers will be able to slip on a pair of high-tech goggles and truly be immersed in a virtual world.
The only problem is: How will gamers play when they get there? With the Oculus Rift still in development for a full consumer launch, developers are finally realizing the deficiency of contemporary controls. In this brave new world where "The Matrix" suddenly doesn't seem like too remote a possibility, the standard joysticks and gamepads that gamers have been using for decades are defunct...
http://www.nbcnews.com/technology/virtual-reality-gaming-nearly-here-we-just-need-right-controller-8C11331493
Posted on 7 Dec 2013, 15:41 - Category: MindScans

No comments - Edit - Delete
Disney has earned the rights to market and distribute any future Indiana Jones movies in an agreement with Paramount, the studios announced on Friday.
Disney would not comment on whether or not Friday's agreement clears the way for Indiana Jones sequels, however an insider said it is the first step before any such discussion could take place.
Prior to the new agreement, Paramount, which distributed all four films in the adventure franchise, had an option to distribute any future sequels, an individual with knowledge of the pact told TheWrap. It only earned a distribution fee for its pains, but that money would have come out of any profits Disney would garner.
Also read: Jerry Bruckheimer: Paramount Will Give Me Freedom I Didn't Have at Disney
Instead of receiving a distribution fee in possible future Indiana Jones films, Paramount would get an undisclosed percentage of the profits. Whereas with the 2008 rollout of "Indiana Jones and the Kingdom of the Crystal Skull," Paramount received a distribution fee of 12.5 percent of theatrical, home entertainment, and television revenue, the individual said.
When it purchased LucasFilm in 2012 for roughly $4 billion, Disney claimed that it had no immediate plans to exploit the Indiana Jones franchise with additional films or television properties...
http://movies.yahoo.com/news/disney-release-future-indiana-jones-movies-223527704.html
Posted on 7 Dec 2013, 13:44 - Category: Movies

No comments - Edit - Delete
Software billionaire Paul Allen is already using his riches to further brain science, spaceflight, rock 'n' roll history — and oh, the Seattle Seahawks, too — but he's not done yet: Artificial intelligence and cell biology are the next big ideas on the agenda for the guy who calls himself "Idea Man."...
OK, doesn't this "idea" sound like a movie we made?
;)
http://www.nbcnews.com/science/next-big-ideas-idea-man-paul-allen-i-cell-biology-8C11284483
Posted on 5 Dec 2013, 13:47 - Category: MindScans

No comments - Edit - Delete
It's been 36 years since the first "Star Wars" film was released, and it's tough to surprise fans with anything new. But a now-viral video of never-before-seen bloopers from "Episode IV: A New Hope" has amassed nearly 1.5 million views since being uploaded on Sunday.
Posted on 1 Nov 2013, 21:21 - Category: Movies

No comments - Edit - Delete
It's been a record-breaking year for Hollywood, but not every studio was able to benefit equally from the estimated $8.164 billion and counting made at the box office in 2013. Sony Pictures Entertainment (NYSE:SNE) is still banking on Cloudy With a Chance of Meatballs 2 to offer the studio its first big hit after a dreadful summer, and Viacom's (NASDAQ:VIA) Paramount Pictures is another company that shows the record year wasn't so great for everyone involved...
http://wallstcheatsheet.com/stocks/5-top-grossing-paramount-films-that-barely-made-a-profit.html/?a=viewall
Posted on 2 Oct 2013, 19:05 - Category: Movies

No comments - Edit - Delete
Pages: ... [2] [3] [4] [5] [6] [7] ...