Video game training helps Army simulate real-life battlefield
For Col. Anthony Krogh, the approaching end of more than 10 years of war seems more like a call to action.
The wars in Iraq and Afghanistan have taken a toll, but they have also left the US Army battle-tested. As peacetime draws nearer, the Pentagon is grappling with a vital question: How can the military keep its soldiers engaged and fighting fit, both physically and mentally?
Krogh thinks he knows one answer: video games. Short of building fake villages "with goats wandering and smells and all that," video-game training is the only way consistently to put soldiers in environments like the ones they have operated in since 2001, says Krogh, head of the Army's national simulation command.
http://www.msnbc.msn.com/id/47282862/ns/us_news-christian_science_monitor/#.T6__gevltV4
Posted on 13 May 2012, 10:36 - Category: MindScans

No comments - Edit - Delete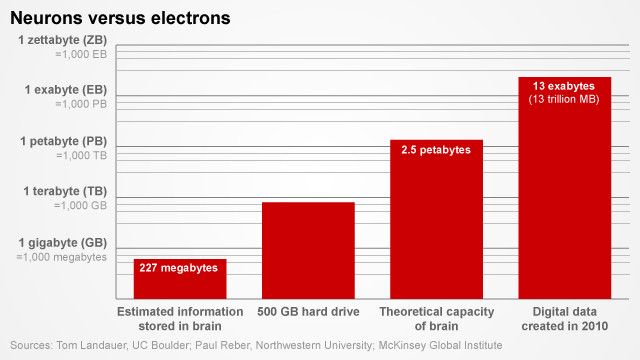 Quick: What's the fattiest system in your body that has two halves and weighs between 2 and 4 pounds?
It's your brain -- you know, that thing that remembers stuff. But because of rapidly evolving information technology, your first impulse was probably to search for the answer on the Internet.
As we become ever more dependent on external sources of memory -- using GPS to guide our driving, smartphones to keep our schedules -- it's time to rethink our ideas about what "memory" actually is.
While we don't physically plug smartphones and other devices into our heads, in some ways we're already one with them, as evidenced by the anxiety we feel when we're without them. Would you remember to pick up milk? Would you know your parents' phone numbers?
If you've ever found yourself running late because you left your phone at home, "you might be a cyborg," says Fred Trotter, a blogger who spoke about information technology at the Health Journalism 2012 conference in April.
http://www.cnn.com/2012/05/07/health/memory-computers-brain/index.html?htp=hp_c2
Posted on 13 May 2012, 10:34 - Category: MindScans

No comments - Edit - Delete
The Digital Entertainment Group reports that subscription streaming rose an estimated 545.5% in the first quarter of 2012, while rentals at brick-and-mortar stores fell a devastating 39.4%.
Home video chiefs at the Hollywood studios finally have something to smile about.
For the first time in years, consumer spending on home entertainment actually rose in the first quarter of 2012, rising 2.5% to $4.45 billion largely due to the strength of streaming, according to numbers compiled by DEG: The Digital Entertainment Group...
http://www.hollywoodreporter.com/news/consumer-spending-home-entertainment-netflix-bluray-redbox-317877
Posted on 1 May 2012, 10:04 - Category: Movies

No comments - Edit - Delete

Alliance Digital Studios' Director of Publicity for MindScans, Clare Kennedy, begins the studio's Facebook campaign today in preparation for the movie's impending release.
MindScans is a Futuristic Drama based on a story from Best-Selling SciFi Author, Steven L. Kent.
https://www.facebook.com/MindScans/posts/10150740301198702
Posted on 27 Apr 2012, 10:22 - Category: Movies

No comments - Edit - Delete
The exec had a rocky tenure at the film studio, with his greatest setback being the March box-office failure "John Carter."
http://www.hollywoodreporter.com/news/rich-ross-disney-314584
Posted on 20 Apr 2012, 11:41 - Category: Movies

No comments - Edit - Delete
A team of California scientists have developed the world's first portable brain scanner, and it may soon be able to "read a person's mind," playing a major role in facilitating medical breakthroughs.
http://news.yahoo.com/blogs/sideshow/ibrain-read-mind-enlists-stephen-hawking-223110217.html
Posted on 10 Apr 2012, 18:50 - Category: MindScans

No comments - Edit - Delete
Best Buy (BBY) CEO Brian Dunn resigned today. While Wall Street's immediate reaction was to drive the electronic retailer's shares higher on the resignation (read: firing), the news is unlikely to delay the company's descent into irrelevance and/or bankruptcy.
Dunn has overseen more than his share of missteps since becoming CEO in mid-2009. Of these failings the most notable was the company's inability to deliver goods purchased online during Black Friday 2011, and not inform customers until several days before Christmas. Adding insult to injury, Best Buy offered little more than a meek "sorry" and excuses to those left with nothing under the tree.
The Christmas nightmare destroyed Best Buy's e-commerce ambitions and, with it, the company's last best chance at survival.
http://finance.yahoo.com/blogs/breakout/best-buy-ceo-brian-dunn-resigns-company-going-151536950.html
Posted on 10 Apr 2012, 18:44 - Category: Movies

No comments - Edit - Delete
Are you a "Star Wars" fan who still holds out hope that Episodes VII, VIII and IX will someday hit theater screens? Don't count on it.
On Wednesday, George Lucas blasted away any chance of ever seeing a new birth of the "Star Wars" franchise when TMZ briefly caught him leaving a Hollywood restaurant.
Asked when the newest installment of "Star Wars" would be, Lucas was blunt: "Never," he said, adding "I'm retired."
It appears to be Lucas' latest film venture that turned the prolific filmmaker off moviemaking. After spending 23 years developing and fighting studios to produce "Red Tails," the first all-black action film, which hit theaters in January, Lucas told the New York Times he was done making action movies...
Posted on 29 Mar 2012, 9:22 - Category: Movies

No comments - Edit - Delete
Electronics retailer Best Buy said Thursday it will close 50 big box stores in the U.S. and cut 400 jobs in corporate and support areas as it changes the focus of its operations to mobile.
The retailer also said it plans to open 100 new mobile locations as it rethinks its U.S. store set-up...
Posted on 29 Mar 2012, 9:20 - Category: News

No comments - Edit - Delete
Microsoft is set to announce that subscribers to the Internet-connected console recently started using their device more often for TV, movies and music than for games...
http://www.hollywoodreporter.com/news/xbox-live-hbo-go-xfinity-tv-mlb-tv-304304
Posted on 27 Mar 2012, 20:42 - Category: Movies

No comments - Edit - Delete
Pages: ... [8] [9] [10] [11] [12] [13] ...