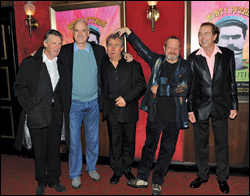 Members of Monty Python's Flying Circus are reteaming for "Absolutely Anything," a sci-fi farce combining CGI and live action, with Terry Jones to direct and Mike Medavoy to produce.
Plans are for filming to begin in the U.K. this spring, with the Pythons voicing key roles as a a group of aliens who endow an earthling with the power to do "absolutely anything" to see what a mess he'll make of things -- which is precisely what happens. There's also a talking dog named Dennis who seems to understand more about the mayhem that ensues than anyone else does. Robin Williams will voice the character...
http://www.variety.com/article/VR1118049265
Posted on 31 Jan 2012, 10:28 - Category: Movies
Edit - Delete
No comments posted yet.